Yes, I followed Howard Jones' invitation to join his show at Indigo2 in London. During this special concert he was supposed to play all 24 (!) songs of his first two albums "Humans Lib" and "Dream Into Action". Some of these songs he had even never played before. Saturday night my wife and me went to the O2 arena and really: 2 V.I.P. tickets had been deposed at the box office. With these V.I.P. passes we were previleged to listen to a moderated sound check where Howard explained his gear, basically a Jupiter 8 and a Roland G8. He apologized that his Juno 60 disintegrated over the years. He even explained the story of the Simmons pads from "his friend Wolfgang from Germany" :-))))))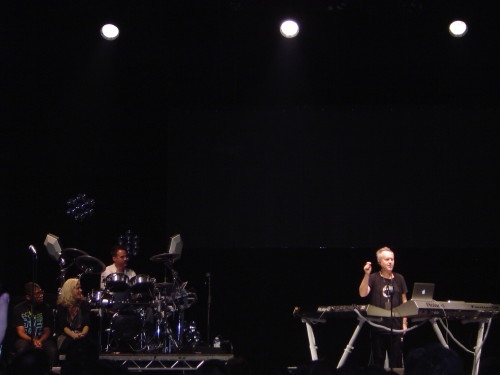 I met Steve Watts in the audience, a former Simmons employee. We had some amicable email conversation before and I recognized him from his Simmons jacket. It is absolutely fantastic when nice online relationships become "real persons".
The concert itself was superb. Howard was accompanied by Jonathan Atkinson on drums (Roland TD-20 plus the two Simmons pads) and Robbie Bronnimann who controlled Howard's vocal effects, master of the midi environment and Ableton. The sound was the best I have heard for a long long time. The venue was ideal, the sound programming, synths, TD-20, FX, everything was programmed with love and passion. Not to forget the songs which still worked after almost 3 decades. The show was rounded off by a multi media LCD show which run syncronous to the music. A very special experience.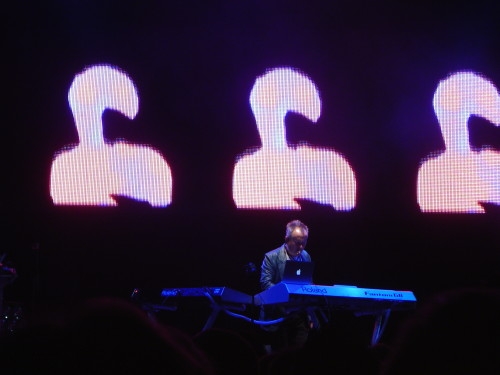 After the concert we had access to the after show party for the meet and greet, but on the one hand we were tired and strung out by two and a half hours of standing, on the other hand about 150 hungry fans were waiting for a picture with the main artist so rather I preferred to wait for another occasion instead of an unpersonal handshake in passing.